About Alamo DVD Solutions
Carol Rodriguez , owner/producer of Alamo DVD Solutions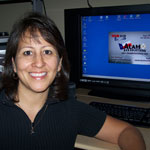 Carol Rodriguez is the Producer of Alamo DVD Solutions located in Live Oak, Texas.
For most of Carol's life she has had the dream of owning a business like this. She started out providing this service for friends and family before investing in this business and the equipment that provides the latest digital technology available on the market today. There is nothing more rewarding to Carol than for her to see the look on a client's face when they see their keepsake video for the first time or for a client to know their memories can be transferred over to and stored on media that provides them easy access to viewing these memories.

Alamo DVD Solutions is #1 in the latest DVD technology. We offer a wide range of digital solutions for the consumer and commercial markets. Equipped with the latest digital technology, our vision for the future enables us to help both consumer and business clients alike with all their digital needs.
Customer TESTIMONIALS are coming soon!